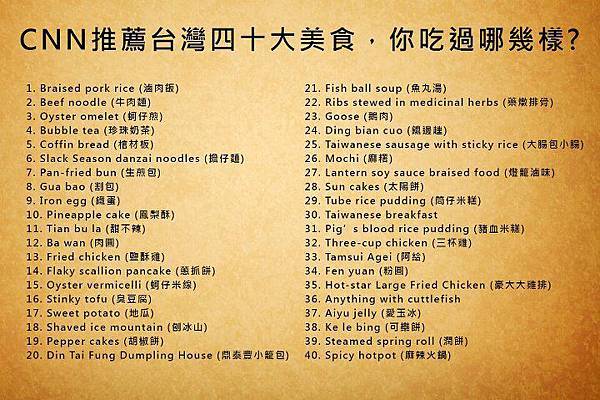 40 Taiwanese foods we can't live without
From mountains of shaved ice to chicken cutlets as big as your face, Taiwanese eats all come with superlatives
By Hiufu Wong
Small eats are the big thing in Taiwan where the philosophy is eat often and eat well.

Sure, there's the internationally accepted three-meals-a-day format of dining, but why be so limited when you can make like the Taiwanese and do some gourmet snacking at any time of the day, all day, every day?

The capital Taipei has around 20 streets dedicated to snacking.

Every time you think you've found the best streetside bao, the most incredible stinky tofu stand or mind-blowing beef noodle soup, there's always another one that surpasses it.

Taiwanese food is a mash-up of the cuisines of Min Nan, Teochew and Hokkien Chinese communities, as well as Japanese cuisine.

The results of these culinary marriages are diversely delicious.

When we asked some Taiwanese friends about the best food on their island, the argument that ensued almost broke up life-long friendships.

"We almost had a war -- we just have too many good eats," was the typical reply.

Food: it's serious, it's respected, it's all excellent in Taiwan.
1. Braised pork rice (滷肉飯)

A Taiwanese saying goes, "Where there is a wisp of smoke from the kitchen chimney, there will be lurou fan" (braised pork with rice). The popularity of this humble dish cannot be overstated.

"Lurou fan" is synonymous with Taiwan.

The Taipei city government launched a "braised pork rice is ours" campaign last year after Michelin's Green Guide Taiwan claimed that the dish is from Shandong Province in mainland China.

A good bowl of lurou fan has finely chopped, not quite minced, pork belly, slow-cooked in aromatic soy sauce with five spices. There should be an ample amount of fattiness, in which lies the magic.

The meat is spooned over hot rice.

A little sweet, a little salty, the braised pork rice is comfort food perfected.

Jin Feng Lu Rou Fan (金峰滷肉飯), 10 Roosevelt Road, Section 1, Jhongjheng District, Taipei City; +886 2 2396 0808
2. Beef noodle (牛肉麵)

You know it's an obsession when it gets its own festival.

Beef noodle soup is a dish that inspires competitiveness and innovation in chefs. Everyone wants to claim the title of beef noodle king.

From visiting Niu Ba Ba for one of the most expensive bowls of beef noodle soup in the world (TW$10,000, or US$334) to a serendipitous duck into the first makeshift noodle shack that you spot, it's almost impossible to have a bad beef noodle experience in Taiwan.

Lin Dong Fang's beef shanks with al dente noodles in a herbal soup are a perennial favorite. The streetside eatery's secret weapon is the dollop of homemade chili-butter added last.

Lin Dong Fang (林東芳), 274 Bade Road, Section 2, Jhongshan District, Taipei City; +886 2 2752 2556; Niu Ba Ba (牛爸爸), No. 16, Alley 27, Lane 216, Section 4 Zhongxiao Donglu, Da'an District, Taipei City; +886 2 2778 3075/ +886 2 8771 5358
3. Oyster omelet (蚵仔煎)

Here's a snack that really showcases the fat of the land of Taiwan. You've got something from the sea and something from the soil.

The eggs are the perfect foil for the little oysters easily found around the island, while sweet potato starch is added to give the whole thing a gooey chewiness -- a signature Taiwan food texture.

No wonder it was voted best snack to represent the island in a poll of 1,000 Taiwanese by Global Views Monthly in 2007.

Lai's Egg Oyster Omelet (賴記雞蛋蚵仔煎), Ningxia Road Night Market; +886 2 2558 6177

4. Bubble tea (珍珠奶茶)

Bubble tea is representative of the "QQ" food texture that Taiwanese love. The cute-sounding phrase refers to something that is very chewy, just like the tapioca balls that are the "bubbles" in bubble tea.

It is said that this unique drink was invented out of boredom. Liu Han-Chieh threw some sweetened tapioca pudding into her iced Assam tea on a fateful day in 1988 and one of the greatest Taiwanese exports was born.

Huge variations on the theme have since emerged, including taro-flavored tea, jasmine tea or coffee, served cold or hot.

Chun Shui Tang teahouse (春水堂), 48 Yi-shu St., Longjing, Taichung County; +886 4 2652 8288
5. Coffin bread (棺材板)

This Tainan specialty is a mutated offspring of French toast and chowder.

An extra thick piece of bread is hollowed out to resemble a flat bread bowl. It is toasted to harden it and then filled with seafood chowder.

Legend says a Taiwanese chef who studied Western cooking invented this bread-soup-bowl-with-corners.

One day an archeologist tried the toast and told the chef, "It looks just like the coffin I am excavating now."

Thus, the chowder soup took on its morbid Chinese name, which means "coffin bread."

赤崁棺材板 (Chìkàn Guāncai Bǎn), No. 180, Kangle Market, West Central District, Táinán; +886 6 224 0014; guan-tsai-ban.com.tw
6. Slack Season danzai noodles (擔仔麵)

You've gotta love a place called Slack Season and it's the first pit stop on any trip to Taiwan.

The iconic eatery originated in Tainan about a century ago. A fisherman sold noodles during the slack season and the joint became so successful that he quit fishing altogether.

The signature bowl of Slack Season noodles is served in shrimp soup with bean sprouts, coriander, minced pork and fresh shrimps.

This bowl of comforting flavors is so addictive that a man from Tainan ate 18 bowls in a row, according to Slack Season.

Slack Season Tainan Main Store (度小月), 16 Jhongjheng Road, Tainan City; +886 6 223 1744, as well as various locations, see website for more details: www.iddi.com.tw
7. Pan-fried bun (生煎包)

Do you like the fluffiness of cake as well as the crunchiness of potato chips? The pan-fried bun gives you the best of both worlds.

These buns are made with spongy white Chinese bread that are pan-fried on the bottom. Break them open to reveal the moist porky filling.

A Shanghainese staple, the Taiwanese version differs in two ways: it is slightly bigger in size and it hits the pan upside-down.

Hsu Ji (許記), Shida Night Market, Taan District, Taipei City; +886 9 3085 9646
8. Gua bao (割包)

It's a hamburger, Taiwan-style.

A steamed bun sandwiches a hearty filling of braised pork belly, pickled Chinese cabbage and powdered peanuts.

The filling is chopped up into small pieces and mixed together so there's a bit of everything in every bite. Consider doing this with Western hamburgers.

Take in a big mouthful and enjoy the salty, sour and sweet flavors and the greasy pork swimming in your mouth.

Lan Jia Gua Bao (藍家割包), No. 3, Alley 8, Lane 316, Section 3, Roosevelt Road, Taipei City; +886 2 2368 2060
9. Iron egg (鐵蛋)

It's called the "iron egg" because this mini egg is tough as nails. With a rubbery consistency these chewy eggs dyed black from long-braising in soy sauce, are a highly addictive delicacy in Taiwan.

Often made from quails' eggs, the little balls are cooked for hours in soy sauce then air-dried. The whole process is repeated over several days until the protein becomes tough and acquires the desired amount of chew.

Seaside A-Po (海邊阿婆), 151-1, Jhongjheng Road, Tamshui; A-Po (阿婆), 135-1, Jhongjheng Road, Tamshui


10. Pineapple cake (鳳梨酥)

This iconic Taiwanese pastry is one of the best souvenir options. These mini pineapple pies are filled with candied pineapple.

If you want the best pineapple cake experience, try SunnyHills which uses only local pineapple as filling. It yields a darker filling, rougher texture and a more sour taste.

The traditional pies at other shops are filled with a mix of pineapple and chewable bits of winter melon. They have a fruity sweetness and a golden casing of crumbly buttery pastry.

Stores that replace pineapple completely with winter melon to cut costs are committing a big no-no.

SunnyHills (微熱山丘), 1/F, No. 1, Alley 4, Lane 36, Section 5, Minsheng East Riad, Songshan District, Taipei City; +886 49 229 2767; www.sunnyhills.com.tw
To read more, go to the original link:http://www.cnngo.com/explorations/eat/40-taiwanese-food-296093?page=0%2C0